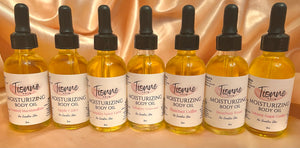 Light and Fresh
I've been using the body oil for about 2 weeks and I love it! It's lightweight and absorbs quickly, and my skin has never been softer. The scent is just right—not too much, but definitely pleasant. Love Spell is reminiscent of a Victoria's Secret spray I used years ago. I highly recommend this body oil and I will happily be repurchasing when I run out!
Hurry Up And Buy This !
This is my very first purchase from Tionne. This oil is EVERYTHING ! I use it right after a shower and when I wake up in the morning , I don't need to reapply. The moisture lock is still there. Not only that , it smells AMAZING ! The sweet smell of actual birthday cake. I will be purchasing again ! ! !
Delicious
With the Birthday cake body oil, every day is a fresh baked adventure. Use after shower / before bed for a relaxing massage or quick-absorbing hydration. Doesn't break the bank and you'll smell delicious!
Heaven Sent and Heavenly Scent
I have upsettingly dry skin, and unfortunately, a cold New England winter always exacerbates that. Just lotion was no longer cutting it for me, and I decided that body oil was the only thing that could save me at this point. I bought Chai, Gingerbread, and Pumpkin Spice Latte to start, and not only did the pain of my cracking skin soothe overnight, but the color really returned to my skin after being unearthed from all of my ashiness. 10/10 would definitely recommend!
apple cider scented
i asked for slightly less scent than normal in my body oil so that i could use the product on my face, and i love what i got! the scent is there, but it doesn't feel overpowering. it makes my skin feel SO soft and hydrated! i use it on my face and body comfortably.