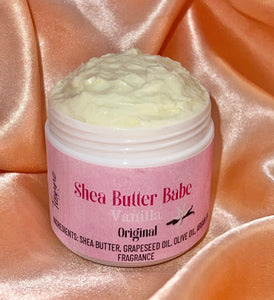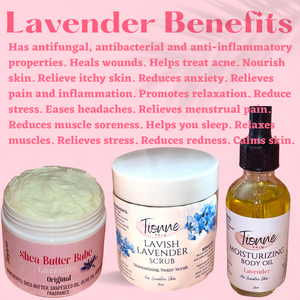 This is a wonderful product and keeps my skin moisturized and soft! The lavender scent is a great way to relax. Thank you so much!
Shea Body Butter Babe
Smells absolutely delicious (I got vanilla), and I can feel my skin drinking it up! A few minutes after application, any greasy feeling is gone, and my skin has this healthy glow to it now. Love it!
Love It!
I love this body butter and so doesn't my skin! I was worried because my skin is so sensitive but I didn't have any issues! I choose the baby powder scent and it smelled so good! I definitely will be buying more and buying multiples since I am completely out! Shipping was quick also so I'm very pleased!
Amazing!!!
I looooove my vanilla shea butter babe. Feels nice, smells nice (not too strong or fragrance-y- just the right amount to get that smell-good), and arrived QUICKLY.
Yum
Melts in, very moisturizing! I got the cake sent, and it smells heavenly. Love it!