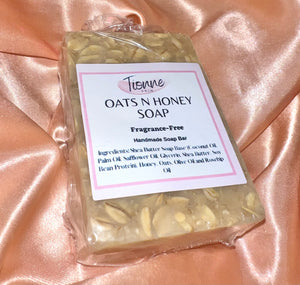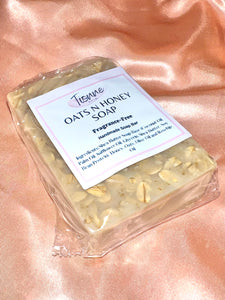 Helps a lot with winter flare ups!
Used in combination with Kokum Butter Babe. Skin feels both soft and hydrated after use. It has definitely helped with soothing and controlling my eczema winter flare ups in addition to Kokum Butter Babe and Tumeric Brightening soap. Great products! Totally buying again!
Love this for my face
I love this soap so so much! I use it on my face and it doesn't dry out my skin even where my eczema is. It's so gentle, has a wonderfully light scent, and makes my skin feel so fresh after.
Lovely as always!!
Bought some more and I just can't get enough of this soap! This is hands down the best soap I've ever used. I love the light smell of oats and honey. I love how it makes my skin feel silky and soft. I love how it keeps me from having skin flares. I just love this soap so much. And me and my skin are grateful for this soap. Love it as always!!!
This is my go-to soap.
I bought some of this soap a while back and I really need to order more because this is some amazing soap. It leaves my skin soft and silky after my shower and actually helps relieve any eczema or lupus flares I have when I use it. I stay using this soap. It's my go-to and I love it.
Helps with eczema!
I recommend this soap! The honey gives it a sweet smell and the oat smell is nostalgic to me as someone who regularly took oat baths as a child to help with my eczema. Unlike other soaps and body washes that are store bought, it doesn't leave my skin sticky and dry after showering.