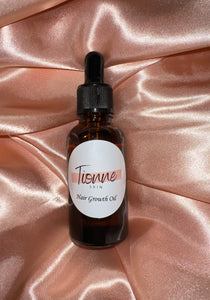 No more spotting!
I was reluctant to write this review as I was embarrassed that my hair was balding in the middle and on my edges. But I am SO HAPPY that it is growing back. My hair is normally very thick but it loss it's density. Now it's back. I am grateful and no longer feel like I have to hide it. See for yourself.
Love this hair growth oil!
This product is great for itchy scalp, but it does so much more! My hair has been thinning a lot and applying the oil has definitely helped it look and feel thicker, healthier, and like it has more volume (it's usually flat). I thought it would take a while to see results, but after 2 applications not only could I see the difference, but my grandmother also couldn't stop complimenting my hair in a video call! I can't stop touching it because it feels so nice! Also, Tionne's customer service is amazing and personalized when you contact her directly. I need to buy more bottles next time because this is definitely going to be a key part of my haircare routine!
Perfect for beard!
Thank you for such quick shipping! Product arrived safely! I got this oil for my partner's beard at his request. He wanted something for sensitive skin (that couldn't give me a rash), and something from a small business. He loves peppermint and rosemary essential oils, so this was the perfect product. He has used it a few times after showering in his beard and on his scalp. There's a noticeable difference. Dandruff is improved, and his face is less irritable along with his beard appearing less dry. He has peppered gray hair and he's mid-thirties, so this is great for aging skin and hair.
Works wonders!
This product is amazing! I have been using it every night after showering / moisturizing, and in a little over a week I have a bunch of new beard hairs growing in. My beard also feels softer and silkier, and existing hairs are growing faster than before. Awesome all the way around.
hair oil
This stuff is amazing . The first time i used it , it made my scalp feel good and my hair looks great . I bleach it all the time and this is helping it a lot.