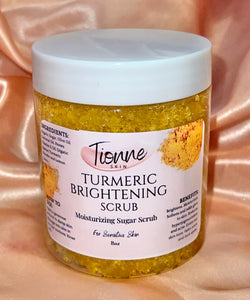 Best!
This scrub really leaves my skin feeling incredibly smooth; I noticed a clear difference where I'd scrubbed! I've tried lightening products before, but they just left me kind of ashy and dry. This helped brighten dark spots on my face and chest which have been bugging me for years!
Turmeric Brightening Scrub
This product is AMAZING! my skin has been so soft and noticeable more even toned and literally GLOWS! Will definitely be buying again when I run out!
Does Exactly What It Says It'll Do
I have used scrubs before, often with "natural" ingredients that have left my skin dull and itchy. I have used this scrub TWICE and it has cleared up some old scaring significantly when paired with the shea moisturizer. My skin is incredibly sensitive. I can't use many things and it always has to be unscented. I love this body scrub its unscented and exfoliates/moisturized my skin without being too harsh or causing more acne. I have tried just about everything except turmeric and body butters I am so happy to have found this gal!💜
Turmeric scrub
This scrub is apart of my daily skin routine! I love how it leaves my faces feeling clean and moisturized at the same time! I love it so much. Not to mention the glow afterward
The scrub
The scrub works. I use It combined with my dove toner deodorant and I see a change .