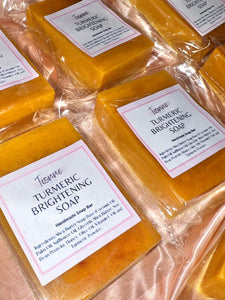 Life changing miss smooth skin
Ok so Honestly I am wayyyyyy overdue on this review ! Because baby! Me and miss Tumeric honey oh we got a thang going on ! I have been rocking with the same bar all all summer it last so long. Its so creamy and moisturizing and has changed my skin . Its more glowy and soft. Give misss Tumeric her 10s! Shes a star !
Works well with Kokum Butter Babe for eczema and dry skin!
I used this along with TionneSkin's Kokum Butter Babe to try and control the winter flare ups of my eczema. Not only has it helped with controlling the inflammation, it has a very lovely "earthy" smell that's grounding, and my skin feels so much better after I use it. Leaves me with a very clean and almost tingly feeling.
TOP TIER!!
i'm really not a fan of bar soaps, BUT THIS!?!? TOP FREAKING TIER!!!! my skin done cleared up in a heartbeat!! 🥰🥰
Can't live without it
This is my go-to face soap!
Turmeric soap
This soap is literally amazing . My skin is sensitive and this doesn't bother it at all . It has cleared my whole face in almost 2 weeks.