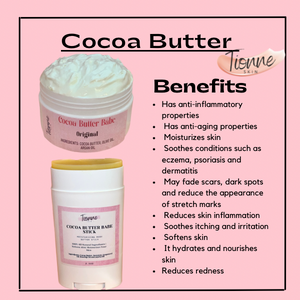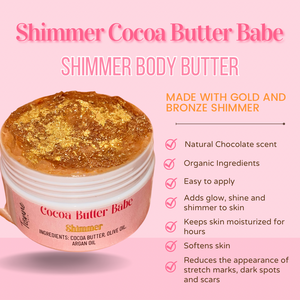 I love it, I love it !!
Wow, its so great, I'm so happy I ordered this Cocoa butter. I've started using it to moisturize my face after using the turmeric brightening soap, and it makes my face so soft and it smells delicious. My boyfriend loves it too!
Perfect quality
This has worked wonders on my skin!
I've never been so smooth
As a psoriasis sufferer myself, I resigned my fate to be flakey and dry, but this opened my world up. It's so moisturizing and it just melts in. It's just what your skin needs!
WORTH IT
I am 5 months pregnant and I just started using the cocoa butter and I love how it leaves my skin soo smooth and I really love how it smells! It smells 100% like cocoa. I love how it's all natural and I will definitely be purchasing more during and after my pregnancy 💗💗
yummy chocolate!
this stuff smells so wonderful. it really helped my dry knuckles start healing! the scent is awesome and doesn't overstay its welcome. some lotion seems to make my skin smell for a while after it's absorbed, but the smell on this sticks around just until it's had a chance to soak in, which i appreciate. really lovely stuff tbh.