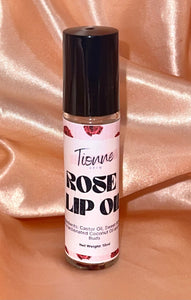 Hydration Station
So moisturizing! Gentle, unscented, and perfect for before bed or after a sesh. Rose petals add an elegant touch, cute packaging. Get it now!
Chapstick ain't got nothing on this!
I just got my package today and had to immediately try it out since it looks so cute! It is like body oil but for your lips! Lol Oily hydration definitely a 10/10.
Healing Rose Oil
I have issues with chapped lips that most lip balms don't really help. This rose oil had my lips soft again within 24 hours. I keep it close to me. I use it often but a little goes a long way. I will be purchasing again!
Life Saver!
I wear a mask 35 hours a week for work which caused my lips to become very chapped and painful. i got this along with the lip scrub and the combo has saved my lips!! highly recommend
Lips feel great
Paired with the Sweet Honey Lip Scrub that I also bought, my lips feel so good after I apply the Rose Lip Oil! Love it, definitely purchasing again!!